PE & Sporting Events - Blog
Swimming Information 2022
Inter-Country Football Tournament.
Normally, children from across KS2 participate in the football tournament but this year, to keep you all safe (no bubble popping!) and as Year 6 have missed out on so many usual Year 6 activities, they were the sole representitives in the tournament.
The six countries were randomly divided into two mini-leagues. Then teh 3 placed teams in the leagues played off fro 5th and 6th place, the second place teams for 3rd and 4th and the grand final was played by the two 1st place teams in each league. We were so proud and impressed, not only by the talent and skill on show but with the team work and sportmanship shown by everyone.
Results:
League A: Morocco 3:1 Columbia, Morocco 1:2 Oman and Columbia 0:4 Oman. Meaning that Oman won the group.
League B: Cub 2:3 Sloakia, Cuba 0:2 Tonga and Slovakia 0:1 Tonga. Meaning that Tonga won the group.
Slovakia narrowly edged out Morocco to finish 3rd over all.
In the grand final Oman were leading 3:1 over Tonga with only 30 seconds left to play, when Tonga had a resergence and came back to square the match 3:3 and take it into sudden death extra time. With one fantastic final attack Oman manage to score the all-important goal and lift the trophy 4:3.
Well done all the whole class for a fantastic tournament and to Team Oman for adding an extra gold medal to the table.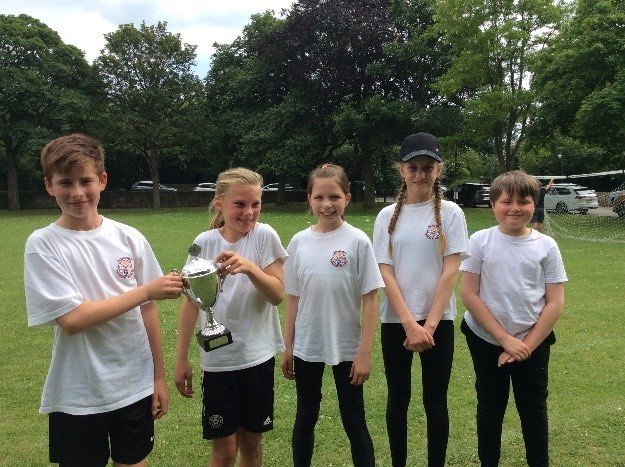 Sports Day(s)
I just wanted to say a huge thank you to everyone who was able to attend the three separate Sport Day afternoons and support the children. It was brilliant to have a live audience for the children and so nice for you to once again be part of an in school event. I would like to thank the vast majority of families who support the event by following all of the Covid rules we had to put in place to allow the event to take place. Unfortunately, those who arrive early or in greater numbers than the 2 per child mean we will have to carefully risk assess whether other event can now safely take place across the term.
The main point of Sport Days is the children and their participation and enjoyment and it was wonderful to see so many happy smiling faces whilst racing and when supporting their team mates.
In Year 2 the children wrote a letter to tell someone, who was not able attend, all about Sports Day. Esther wrote, "Some children got 3 stickers, some children got 2 stickers, some got one like me and some got zero. But that's OK, you're supposed to have lots of fun and be proud of yourself." Which I think sums up the event.
So what is the impact on the Medal table I hear you cry? Well after the Sport Days and other events this week we have now had 120 medal winning activities across school. Whilst there are still more to come the medal table currently stands…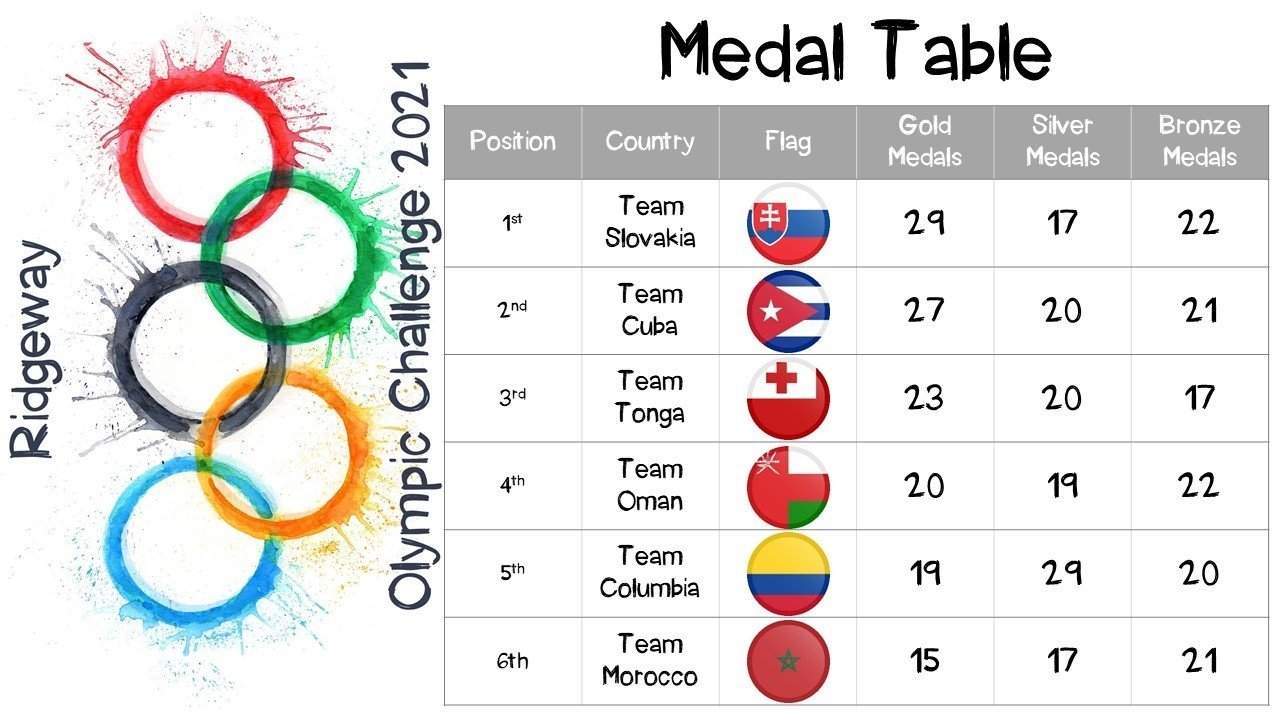 The Ridgeway Olympic Challenge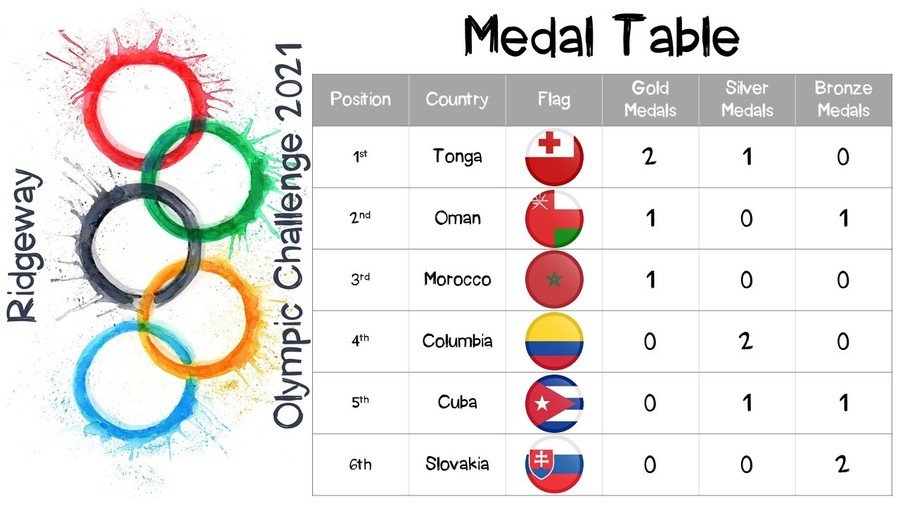 The Ridgeway Olympic Challenge - Challenge 4
Here is part 2 of the third Ridgeway Olympic Challenge.
For this challenge you will need a biscuit and your feet. The aim is to flick the biscuit from your foot into the air and catch it in your mouth. The smaller the biscuit the easier it is! Now this is quite a tricky challenge, so any uploaded video as an attempt will earn you a point for your country regardless of success! However, if you are successful at catching the biscuit, you will earn 5 points for your country! You can have as many attempts as you like. There is also an opportunity for you to earn some bonus points, all you need to do is get any family member from your household to complete the challenge and upload their attempt to earn your country a bonus point. You can get as many family members to complete as you like.
Please ensure this is within Covid 19 restriction guidelines and you only complete with the people in your household or support bubbles. Lots of points up for grabs in this one! You have half term to complete.
The Ridgeway Olympic Challenge - Challenge 3
Here is one of two ROC challenges for you to have a go at over the half term.Both of these are a fun way for you to earn some much needed points for your country!
The first of the two is the chop stick challenge. The aim of this challenge is to move as many sweets as you can from one bowl to the other using chop sticks in 1 minute, trust me its harder then it looks! You can use an array of sweets, skittles, M&Ms or Malteasers for example. Younger children may find it easier to use Haribo or larger jelly type sweets and even tweezer at the lower end of the school. Upload your result as a video to Seesaw with your final score in the comment section with your video. We can't wait to see which country will be the chop stick champions!
The Ridgeway Olympic Challenge - Challenge 2
Challenge 2: Challenge 2 of the R.O.C is the 1 minute kick up challenge! You will need to complete as many kick ups as you can in 1 minute. Do not worry if you don't have a football at home, as the video demonstrates you can use whatever you have available, ball, socks, toilet roll, whatever you can get your hands on! Do not worry if football isn't your sport, if you drop the ball, simply pick it up and carry on, all kick ups count even if you drop it in-between. Upload a video of your efforts to Seesaw. All points will go towards your country and we can see who the top three medals of challenge 2 will go to!
The Ridgeway Olympic Challenge - Challenge 1
On the newsletter on Friday I explained about the new intra-school competition that we are running from now until the end of the school year. Each class in school has been split into 6 teams and each team has been assigned a country. Attached to the activity on Seesaw is a list of who is in each Country for your class - so check out who you are representing.
Challenge 1: For this first challenge we would like you to make a video of you doing as many star jumps as you can in 30 seconds. You will need an adult to time, film and count. Please make sure that the adult also says how many you completed at the end of the video and upload the video in response to the activity on Seesaw please.
To make sure you all do the same style star jump, please watch this video first. https://www.youtube.com/watch?v=tD4nY4cNH5M
Everyone's star jumps will be added up and the winning country will be awarded the first gold medal on our medal table so try your very best.
Good luck, Mr Wilson
Introducing The Ridgeway Olympic Challenge (15th Jan. 2021)
Our New Intra-School Competition
As we all know, this year has been very different and affected school life in different ways! One of which been the lack of competition we have been able to partake in against other school, as well as the bubble systems around school meaning whole school engagement has been more difficult. To try to bring back the whole school team ethos, as well as some competition throughout school, we are going to be running a whole school intra-competition.
Each class has been split into 6 teams, these will be shared on Monday via Seesaw. Each team has been assigned a country (a clue to the countries involved is below!). Over the course of Lockdown, and the remaining school year when we all return, classes will be completing challenges, which can earn points for their country team. The nature of the challenges will vary from sporting challenges to creative challenges. Hopefully, providing the children with much needed competition and variety through fun, engaging activities.
After each challenge is complete, the points will be tallied for each country, and a gold, silver and bronze medal being awarded to the top three countries. The medals will be recorded in a medal table just like at the Olympic games and there will be updates about the countries' current table positions after each event.
This is a fantastic opportunity for Team Ridgeway to not only get involved in some healthy competition, but also to learn about different countries from around the world. Over the rest of the year Class teachers may set learning or homework activities around different countries, allowing everyone the opportunity to learn about the different cultures.
Challenge one will be announced on Monday along with the countries and the medal table will also be updated here, on this page, and a display will be up in school for when the children return.
Swimming Information 2020
Keeping Fit if schools close!
If schools close and we are in a lockdown situation, we have to think about the health and fitness of ourselves and the children. It will be all too easy to simply pull on our PJs and sit and watch Netflix!
So here are a few workouts you could do in the living room!
Gymnastic Fantastic! - Update 6th Mar. 2020
Team Tiger (Year 2) went to Graves Park Leisure Centre for a Gymnastics session this week. Here is what they thought…When we got to Graves we saw the gymnastics equipment, we were amazed and couldn't wait to have a go! We split into two groups and tried different activities. We did trampolining, an obstacle course with a climbing wall, jumping into a foam pit (with a sock monster that kept getting our socks!), swinging from one bar to another and practised our skills doing forward rolls, cartwheels and log rolls.
We even saw Bryony Page, the Olympic silver medallist, doing flips and tricks on a huge trampoline.
"I loved the trampoline because I went really high and tried a seat drop" – Leo
My favourite part was the foam pit because we had to fall in backwards and be brave then get out as quick as we could which was a fun challenge! It was a great experience for the children and a wonderful opportunity to put the skills they have been working on in school to use on the specialist equipment. Well done for representing the school so well.

Latest Results - Update 6th Mar. 2020
Football Results
On Monday the 2nd of March Ridgeway FC (the school football team) took on St. Thomas of Canterbury! The nets were a bit small, but we managed to get a goal in the first half, scored by Freddie our main striker and top scorer. Then in the second half we let in a dreaded goal. But that wasn't it! There were 2 more to come. The final Score was 3-1 to St. Thomas. We didn't let our heads go down and came at them with a couple of counter attacks but just couldn't quite finish. It was a great game and we all enjoyed it. Well done to St. Thomas' and well done to all our players and especially to Izzy for making some good saves.
By Oliver & Oliver
Netball Results
On Monday the 2nd of March the Netball Team also faced St. Thomas of Canterbury. By the end of the first quarter with a team effort we had already scored two great goals. Their team was played really well to say that the match was their first competitive game. After a rest and a change of positions we were back into the game. Happily for them, they then scored a goal. Then we worked harder and scored another three goals to make it 5 –1 to us. In the third quarter they scored another goal. In the last quarter we pulled together as a team and scored two more amazing team goals to leave us with a victory of 7-2. We played as a strong team and we think we deserved to win. Well Done to everyone who played on both sides.
By Asha & Sophie
Water Polo - Update 14th Feb. 2020
Om Tuesday we also took a team of 11 Year 5/6 pupils to the Queens' Park Leisure Centre, in Chesterfield, to participate in a Water Polo competition. It was another fantastic morning of sport. Our Water Polo team played so well, winning 7 of their 8 games and topping the league. They were once again a privilege to take to an event. Excellent effort, behaviour, teamwork and sportsmanship. Well done!
We also received this message from the organisers, "Congratulations for competing in the recent Water-Polo event. All of the children were a credit to their school, trying their hardest, learning a new and physical sport. All children showed great sportsmanship, honesty and teamwork and this showed as the standard of play increased game to game. Congratulations to Ridgeway who ran out winners on the day.

Mr Wilson
Cross-fit 2020 - Update 24th Jan. 2020
This morning, Friday, I was lucky enough to be able to take our team of ten children to the local schools Cross-fit competition where they faced teams from five other schools. I could not have been more proud of how well our team conducted themselves all morning. They were a credit to the school, their classes and their families.
You are probably asking, "what is Cross-fit?" The easy answer is it's hard! It was a morning of gruelling physical challenges. One example is one of the four team relay races consisting of sprint, 10 full squats, sprint, 10 high - low planks, sprint, 10 bicycle crunches, sprint, 10 speed hops, long sprint and then tag the next team mate! There were four races including exercises like these and harder; press-ups, step ups, burpees etc. That all formed half of the programme! The other part was a personal best challenge, how many can you do in 30 seconds? Explosive Star Jumps, Burpees, Ball Slams, Tri-cep Dips, and many, many more.
I was exhausted just watching the children! But they were magnificent. Every single school value was on show; courage, determination, friendship (as a team and with other schools), excellence, equality (encouraging everyone and supporting the team as a whole), respect and inspiration. The team pushed themselves harder than they would have thought possible both physically and mentally. They didn't stop giving 100%, even when they were getting tired, legs were aching or muscles were feeling the burn but mentally you could see them growing tougher and more resilient. No-one was going to stop giving everything for their team and their school. They were fierce but in a respectful and sporting way. As I said at the start, I could not have been more proud of them.
Then came the results and the cherry on the cake! All that hard work had paid off and they were crowned champions having amassed a total of 1386 points, more than 70 points higher than the other teams. Well done and thoroughly deserved.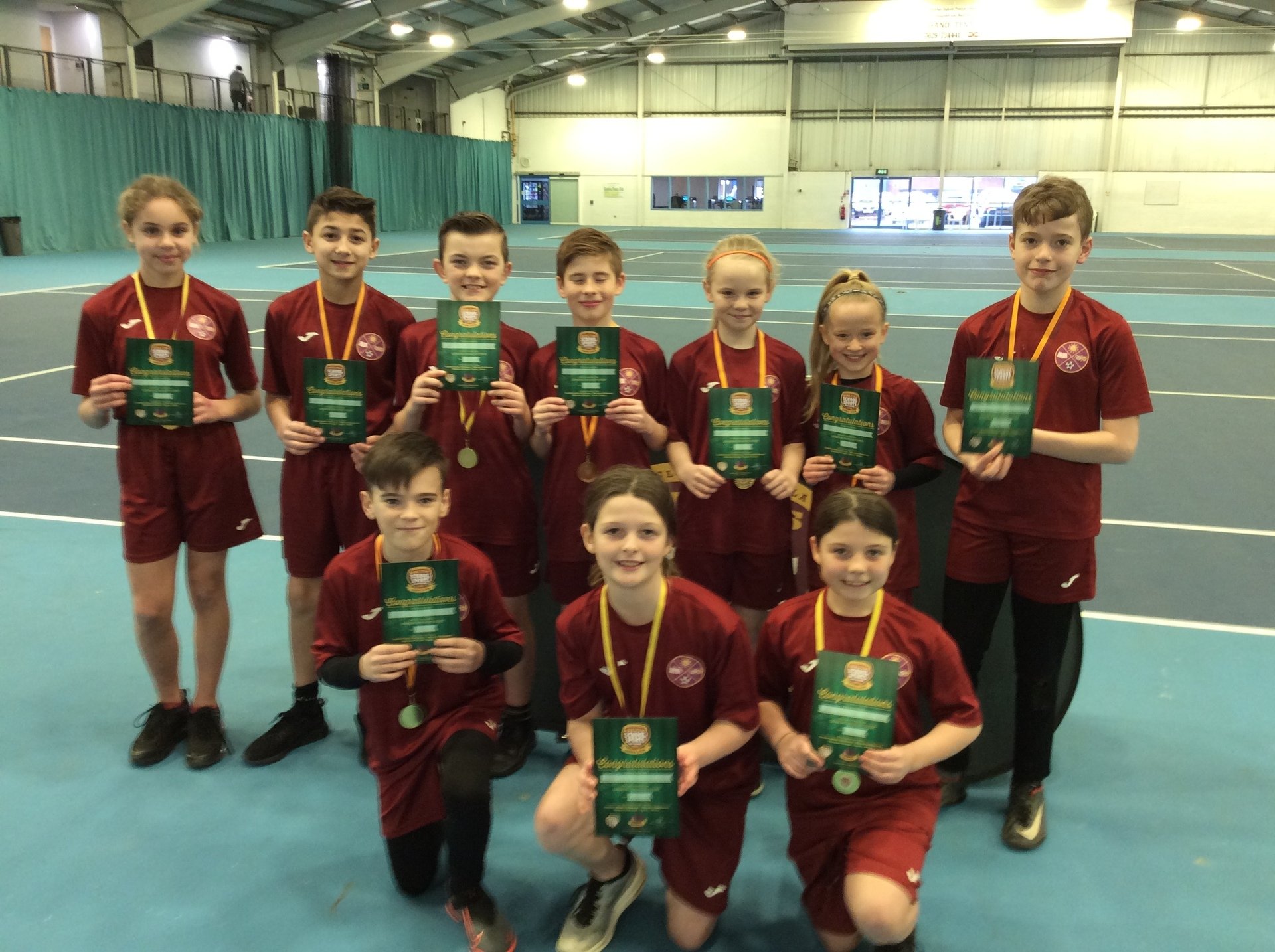 Mr Wilson
Year 1 Sport - Update 15th Nov. 2019
This week Year 1 went to Graves Sports Centre where they played lots of fun games, learning attacking and defending skills. Ethan and Millie S particularly enjoyed the game called 'Clean your bedroom' which involved each team trying to clear all of the balls out of their area before the other team.
They also enjoyed a game called 'Pirate Flags'. Ethan spent time helping his team come up with strategies to defend their flags. They were both very tired by the end of the afternoon but when asked to sum up the event in one word they both immediately said, "fun!" Well done Giraffes.
Mrs Tingle
Aldi Stickers - Update 8th Nov. 2019
A final thank you for all of the help and support you have given with the Aldi stickers. We have sent our chart in and will let you know when we receive the kit. We are also in the draw for the £20,000 so fingers crossed.
More than that though, we have made a real difference for Elton C of E Primary School. I felt very privileged to take 200 stickers to the little school of 15 pupils in Derbyshire. With our support they have completed their chart too, something they would never have been able to do without our help. It really is an example of our school values in action.
Mr Hunter, the Head Teacher of Elton, also asked me to pass on the thanks from the whole of the Elton School. Community.
Aldi Stickers - Update 25th Oct. 2019
As you know we have already completed our sticker chart and are now in the draw for the prize money and will be receiving a sports kit for school. However, we have also managed to collect another 200 stickers to help another school complete their chart. With only 15 children in the whole school they had done incredibly well to collect 100 but with your kind support they will be able to complete the challenge and claim their sports kit.
So another huge thank you for helping our children and for supporting another school too. It sends a really important message to all of our children about what we value as a community—helping others over only helping ourselves and the importance of kindness.
Latest Results - Update 25th Oct. 2019
Last Friday our Football and Netball teams travelled to Totley Primary for the latest round of the local leagues. Here are the match reports:
On the 17th of October, our Ridgeway Netball team had a match against Totley Primary School. Firstly, we all got warmed up and also we practised shooting. Then we got into the game and by half time it was 5-0 to us. By the end of the match Katie and Isabella both scored 5 goals and I (Anna) scored 1 goal too. At the end of the match we all shook hands and said well done. We all played really well, and had lots of fun. The final score was 11-1 to us. Well done to everyone on the team because we all worked together.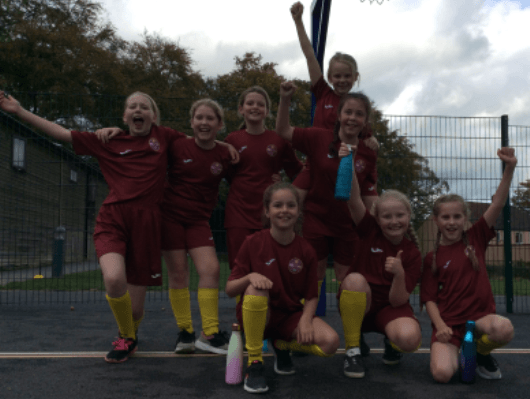 By Anna and Scarlett Y6.
Thank you to Mrs Evans for giving up your Friday afternoon to coach the team. Their first win of the season. Well done everyone.
Last Friday the school football team went to Totley on a coach. When we arrived, Totley's School teacher took us to the football pitch to warm up. Mr T was the referee and both schools had 8 people aside. Goals were scored by Freddie who scored a fabulous 6 goals and Oliver G scored a clever goal too. When the game finished it was 7-5 to Ridgeway! Overall, it was an amazing game and we thank Totley for inviting us to their school.
By Izzy and Oscar Y5.
Thank too to Mr T for coaching the team to another winning performance. Well done to you all.
Futsal - Update 18th Oct. 2019
What is Futsal? It is a variation of indoor 5-a-side football using a heavier ball which encourages more skilful play, as the ball doesn't bounce as much.
On Thursday the 17th October, nine Year Sixes went to Queens Park to play a futsal tournament against seven different schools (Killamarsh Jrs, Rainbow Forge, St Giles, Immaculate, Eckington Jrs, Eckington Camms A and Eckington Camms B). Phoebe and Luca were the Captains and Sajin was the best keeper in the whole tournament saving goals that even professionals could not save! We all played our socks off and we think we deserve a pat on the back! We tried our best and came 7th - well done team!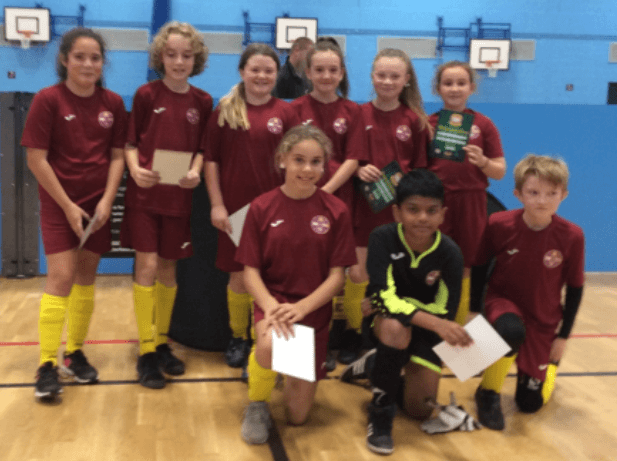 By Tallulah and Phoebe
Sport Scores - Update 11th Oct. 2019
Thursday evening saw our football and netball teams head to Renishaw for the second round of the local leagues. Although the results did not go our way, the children played with a real sense of sportsmanship and teamwork. I was really impressed with the spirit of the netball team and would like to apologise for my poor netball knowledge—blame the coach for result. The footballers also played really well and were the better team for most of the match. Thank you all for representing the school so well and to the parents for their support too.
Mr Wilson
Benchball - Update 4th Oct. 2019
On Tuesday, Team Elephants went to Graves Leisure center to take part in a Qualitas Bench ball afternoon of sport. They were split into three teams and each team competed in a league against other schools. The Elephants showed fantastic team work, courage and sportsmanship. I think we were all tired out by the end of the afternoon!
A Super Evening of Sport - Update 27th Sept. 2019
Thursday evening, which turned out to be lovely and sunny, we took our football and netball teams to play our first fixtures of the year against Eckington Camms. Here are the match reports...
On Thursday evening, we played a netball match against Eckington Camms. It was a very intense game but we all had a fun time! Although we did lose 4-2 to Camms, we don't think any of us felt like we lost at all. We played a fantastic game and we are all very proud of our selves even though it was all very fast and extremely crazy! By the end of the game, we all were as red as our shirts, we played very well considering some of us had never played a proper netball match before!
By Isabel S and Katie Y6
Football: On Thursday 26th, Ridgeway took on their first opponents Eckington Camms. The line up a 2-1-2-1 formation. With Izzy from Y5 in goal, Dexter and Conrad were in defence (both from Y6). In defensive mid we had Oliver G from year 6. In attacking midfield we had Oliver SG from Y6 and Oscar from Y5 and finally Freddie from Y6 was up front. It was a topsy turvy game with 13 goals in the first half. It was 7-6 to them but when 'Super Sub' Brooke came on we turned it around with the full time score being 13-9 to us. The reason there was so many goals because there was full size nets and a small pitch so it was easy to score for a change. A great effort was made by all.
By Dexter and Brooke Y6
Year 6 PE Session - Update 13th Sept. 2019
This term Year 6 are focusing on Tag Rugby for their out-door PE. As Olivia & Olivia are not currently able to participate in PE, we wanted to ensure they were still part of the session and part of team Rhino. We challenged them to use their IT skills to document and report on the session. They have done more than that. They (with a small amount of support) have used a new app and put together the wonderful video below. Well done.
Swimming Information 2019