We
are
The
Leopards!
(Year 4)
Please see below our talking Leopard! We worked in small groups to script, record and edit our leopards using the iPads. We can't wait to continue all of the Computing skills across all of our learning!
C

l

a

s

s

I

n

f

o

r

m

a

t

i

o

n
We are The Leopards!

Mrs Potts and Miss Trotter are our team leaders, but we could not do our job without the amazing children in our class.

Mrs Potts teaches us Monday and Tuesday one week and Monday, Tuesday and Wednesday the next and Miss Trotter works Wednesday, Thursday and Friday one week and Thursday, Friday the next.

We are very lucky to have Mrs Taylor join us most weeks in school from September 2019 and

she is an incredibly important and treasured member of our team.

SWIMMING will take place later in the year, more information will follow.

P.E will take place twice per week, every Tuesday and Thursday afternoon.

Water bottles will be sent home at the end of each day to be washed out.
If you have any questions, please always feel free to ask! We feel so incredibly lucky to have your children in our class and we really are looking forward to getting to know them well this year!
Mrs Potts & Miss Trotter x
H

o

m

e

wo

r

k
Book bags are to be sent in to school every Wednesday please.

Homework will be set each Friday and needs to be returned the following Wednesday please. There will be varied tasks and more information will follow.

Spellings will also be set every Friday to be tested the following Friday.

If your child wishes to complete extra work at home, please feel to use the homework book for this.
Please find below some useful links for extra

learning at home!
Please do ask if you have any questions,
Many thanks,
Mrs Potts and Miss Trotter X
Getting Ready for White Hall is September 2020
I know that life is challenging right now but it will not last forever. Here is something the Leopards can look forward to over the coming days, weeks and month.
Parents, please read the letter below. You can access payment information on ParentPay.
Take care, stay safe and keeping learning, Mr W
Lively, learning, loveable leopards,
leaping for success and always trying
our best...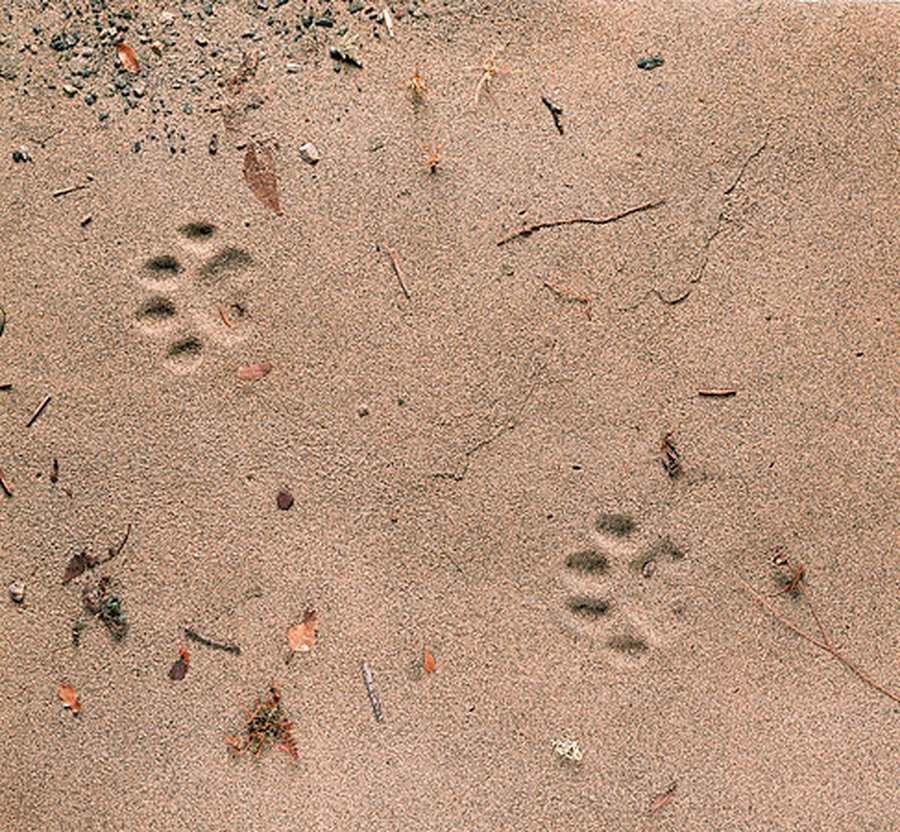 Music

is

good

for

the

soul...
I thought I'd try something new this half term! Music is good for the soul :-) and so I thought i'd choose a different artist per week to share with the children - the music they come in to in the mornings will be a playlist of that artists' songs and the morning PowerPoint will also share facts about that artist.
Here is the artists/ musicians we are/ have been listening to! I'd love to hear of any any suggestions of your favourite bands/ musicians too.
W/C Monday 16th September - DAVID BOWIE
W/C Monday 23rd September - THE KILLERS
W/C Monday 30th September - MADONNA
W/C Monday 7th October - U2
W/C Monday 14th October - BEETHOVEN
W/C Monday 21st October - BRAHMS
W/C Monday 11th November - Traditional Portuguese music
W/C Monday 18th November - Traditional Spanish music
W/C Monday 25th November - Traditional French music
W/C Monday 2nd December - CHRISTMAS music
Wowzers! Summer 2! How did that happen? Every single day, especially during this strange time, you impress us SO much Leopards. Thank you for your continued hard work and amazing learning - you are all SuPeRsTaRs!
So we begin this half term by researching a really special event that took place this weekend, you may've seen it yourselves from your gardens?! Then we move on to the our next topic fully when we will be looking in to natural disasters...
We will continue to use or Bookflix skills in reading and writing across a variety of genres, as well as using and applying the four operations in maths in different contexts.
See you on SeeSaw our lovely team!
Mrs P & Miss T x
Morning to our lovely Leopards and welcome back to 'school'! We hope that you've all a lovely couple of weeks over Easter, did you eat lots of chocolate? Did the Easter Bunny visit you?Have you spent lots of time in your garden? Isn't the sunshine absolutely lovely! As this is a new term, we are beginning our new topic, 'Bloomin' Marvellous' and it is based around plant life but - as always - we will throw a twist in there, can you spot something in our topic cover that looks a little odd?
S.T.E.M Trip!
Hi all! We are very excited to have booked a school trip for Wednesday 25th March 2020 to Magna (Sheffield) where they will be holding a S.T.E.M (Science, Technology, Engineering and Manufacturing) event.
Get up to Speed with STEM is a chance to see some of the UK's most exciting science, technology and engineering inventions, and meet the people who design, build and operate them! We will be speaking to businesses, inventors and apprentices of these industries!
This trip ties in wonderfully with our learning this half term given we are becoming entrepreneurs ourselves and designing, implementing and evaluating our own business ideas.
We can't wait to have a great time exploring with the children.
Many thanks as always for your continued support,
Mrs P and Miss T x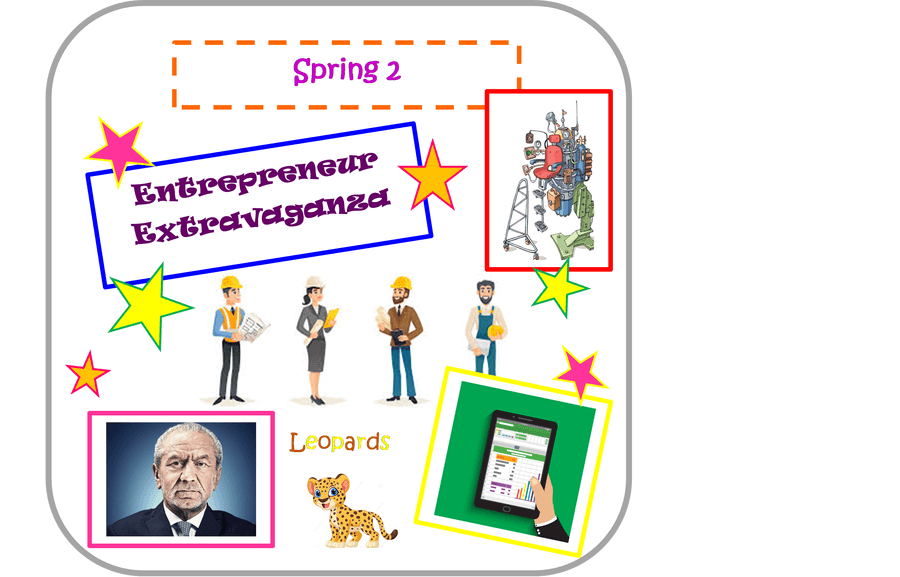 How is it Spring 2 already? Times really does fly when we are having fun and we have lots more in store this half term when we become designing, innovative, investigative ENTREPRENEURS!
We will use design criteria to take a plot of land and plan what we could put on it to be a successful business. Of course, we'd have to consider many aspects and generate, develop and communicate our ideas through discussion and diagrams. We will investigate other similar designs and consider the builds and views of others to improve our own learning. We, of course, will be looking at budgeting and finance and how we can make more profit from our business and then we will use our computing skills to design a website/ advert campaign to promote it.
There is so much to do, and how much fun we will have!
As always, we will be reading a variety of text genres (linked to topic) during our daily Bookflix lessons but we will also be reading 'Rosie Revere, Engineer' and 'My Crazy Inventions sketch book', which are both brilliant and engaging texts.
This topic lends itself hugely to all of the 'using and applying' skills we are further embedding in Maths as we use perimeter and area to measure and design our plot of land, as well as our building. We will be using the four number operations to calculate costings, profit margins, costs of materials etc and using our knowledge of decimals to understand how we would spend our budget.
So, keep your eyes peeled for the updates as we unravel our plans. I am excited to get started!
Eden Camp!
I cannot tell you just how proud I am of the children and how well - behaved they were on their trip to Eden Camp. Eden Camp isn't close but the children were exceptionally well behaved on the coach both going and coming home and once split in to groups, visited all areas of the museum both enthusiastically and respectfully. I was beaming with pride and still am!
I am sure you've heard all about what the children saw there but here are a few pics of our lovely day. Within in each hut, there was a focus on different areas of life during and beyond WW2 including: The Blitz, street-life (food/clothing), Anderson shelters and much more including real life planes and vehicles from that era. The trip really brought the children's learning about WW2 to life and, as part of the trip, the children now each have a free pass to get back in of you wish to visit yourselves! I'll send home the slips this week.
Thank you for your ongoing support and thank you to our amazing Leopards for just being their wonderful selves! Roll on the next trip!
Mrs Potts X
School trips this week!
(Sunday 9th February 2020)
Good afternoon everyone, I hope you're all having a great weekend, even with our little visit from Storm Ciara!
I just wanted to give a little reminder/ update of our trips this week.
Monday: Eckington School for our art/ drama/ English workshops and performance, 'Arabian Nights'.
We were very kindly invited by Eckington School to attend their workshops which will be run and held by pupils and their staff, during which we will look at varying elements of the performing arts including music, drama, speaking and listening and performance. Then we will watch the students of Eckington perform their own show in their studio (how fabulous!) before reflecting upon it and heading back to school. We've been working hard this year on writing for reason and imagining the impact we would like to have on our reader, including skills such as 'showing not telling emotion', building suspense and really painting a picture in the readers' mind. (Of course this also reflects in our reading lessons as we become the reader and look at the author's intentions). And I have to say, the Leopards blow me away daily with the progress they're making, SUPERSTARS.
I am therefore hoping this experience at Eckington will really enhance our understanding as the children see these skills in action from the page through to the stage (unintentional rhyme!). Not to mention, we will soon be starting rehearsals for our very own show this year (which is REALLY exciting) so we'll also be able to take from this some additional skills and confidence to really sing our hearts out and perform for you all (watch this space!).
REMINDER:
Please be at school at 0815 as we hope to be on the coach and on our way at 0830. Mrs Taylor and I will be around, one of us by the door you usually enter by, and the other in class to welcome the children in, so please come in to class as usual so I can register everyone before we head off to the coach.

Children are to keep coats and bags on them as they come in to school rather than taking off to put back on again.

Every child needs a packed lunch tomorrow please as we will be staying at Eckington until 1330 ish. Please ensure your child has a drink/ their water bottle with enough water to last from 0830-1400 ish, we can re-fill once back at our school.

It would be really useful if lunch boxes and bags are in a rucksack please, just so that we can keep everything together!

All children are to be in school uniform please.

I will take inhalers etc with me.
I will, of course, be taking pictures and we will let you know how we get on. I am really looking forward to it!
Tuesday: Eden Camp
I visited Eden Camp yesterday to have a good look around before we head over there and I have to say, I think we are in for a great day! There is lots to learn and see and I am really looking forward to taking our little superstars there!
REMINDER:
It is another early start, please be in school for 0800 as we hope to be on the coach and away for 0815. We aim to arrive by about 1015 ish and I'll contact school when we arrive and ask for a text to be sent so you know where we are!

It is an OUTDOOR museum with huts that the children will be walking through for different experiences. Therefore please ensure your child is wearing layers to keep them warm including: a waterproof, hat, gloves (may be even a scarf). It is better to be warm in too many layers and have to take one off than try to get warm once cold!

Please ensure footwear is appropriate: it may be muddy/wet given the rain and the huts are concrete based so feet may get cold quickly. Thick socks/ walking boots are ideal or something similar. (We will be eating inside in a heated 'Mess' hut and watching a show in another heated place so that will break the day up but I'd hate for anyone to be really cold!)

School uniform please.

Please could every child have a packed lunch and water bottles/ drinks with enough water to last them the day.

Ideally, a rucksack per child would be great to keep their lunch and clothing bits and bobs in.

Children do not need to bring any additional money on the trip.

As per all trips, I will have inhalers etc on me but please tell me in advance of any travel sickness/ precautions you may take for longer journeys.

I will contact school when we leave and give an ETA so you're aware of when we will be back.
Thank you for your ongoing support, I really am looking forward to this week and giving the children these additional experiences. And a huge thank you to the parents who have offered to come along with us on this trip, without you we couldn't do this so thank you so much!
See you all in the morning, Mrs P :-) X
We love reading...
And what better place to read than in our very own Anderson Shelter?!
So proud!
A quick preview of some of the artwork and our poetry that is now proudly presented outside of our classroom, just look at the fabulous learning we do. Well done Leopards, you are all amazing and very special little people :-)
Collage creations!
We had so much fun looking at primary sources of information based on World War 2, in particular newspaper clippings. We then used these and their brilliant headlines to create a collage picture, further decorated with airplane silhouettes. Our pictures are all different as we carefully selected the headlines and reports that told the story/ message we wanted our learning to deliver. Once again, the Leopards and their learning excelled and you can see some of our amazing pictures in the corridor outside of our classroom!
P.S. A messy classroom, mean lots of busy learning, right? ;-)
Time flies when you're having fun...
Recently we've been looking at different ways to use and apply our knowledge and understanding of time (how we read a clock face, the conversion between a clock face and a 24 hour clock and then using this knowledge to problem-solve). Working in pairs, we then created short tutorials, explaining to each other what we understand about time, and in sharing our thoughts and discussing our ideas, we further embedded our learning. One child even said, "I really do get time now, my partner really helped me!" Such team work really do make us so proud of you, leopards! :-)
Poetry in action!
Having learned all about evacuation, we used this as a stimulus to create the most amazing poetry; not only do our poems contain rhyming couplets (WOW!), they also include our new skill of 'showing not telling emotion' that we've been working really hard on.
Then, we took our poems and brought them to life using Adobe Spark and created small video clips. The final results are incredible and we are so proud of the children and their efforts, as always, Mrs P X
Outdoor P.E
We LOVE P.E and it is even better in the outside and fresh air! We are enjoying practicing new skills both independently and as a group, assessing our progress and working out how to improve even further in the next lesson!
Hi all, we hope you have all had a lovely break and managed to make some new memories together with your families! Happy New Year 2020! And what a fun one it promises to be; we are so excited about our new topic, "We'll Meet Again" which will be based upon World War 2!
So, where will we begin?
In order to study of an aspect or theme in British history that extends pupils' chronological knowledge beyond 1066, we will be looking at pre, during and post-war Britain and beyond. What caused the war? where did it begin and why? And what were people's varying views at the time? This will give us the chance to listen to and understand others' view points.
We will be looking at the reign of King George VI as to understand the changing power of monarchs through time.
The Battle of Britain was a significant turning point in British history and we will be learning all about how it unfolded, what happened, how Sheffield was hit and about evacuation and rationing. We will even be designing and building an air-raid shelter as a D&T project and evaluating it afterwards. We also thought it might be a great idea to hold a S.T.E.M day too - looking at how infrastructure was rebuilt after huge bombings, this will allow us to consider all areas of learning and think practically, logically and imaginatively.
To understand the methods of historical enquiry, including how evidence is used, we may be lucky enough to have a very special and knowledgeable guest visit us for a day who specialises in all things World War 2 related.
I thought we must also learn about the different planes that were flown during this time!
In science we will be learning all about electricity including the components of a basic circuit and how to build one, we may even even use something similar to build a morse code reader! We will be looking at how useful electricity was during World War II and what it was mainly being used for, how did they signal incoming attacks to each other?
R.E we will be looking at How and Why Christians follow Jesus and considering our own thoughts and views as well as those of others. PSHE will focus on changes but will underpin our topic, as will P4C.
And as always, Computing is used through out to embed and bring our learning to life. The children are really growing in confidence at using and applying all of the different apps we have!
We have so much to look forward to and we can't wait to see all of your lovely faces this week!
Mrs Potts and Miss T x
Merry Christmas, Everyone!
The leopards have had a lovely last week of the year (and decade)! We have worn jolly jumpers, sang festive songs, eaten delicious food and even had a Christmas party!
What a wonderful end to the term! We hope every pupil (and grown up) has a relaxing festive period, and we will see you in 2020.
Miss T and Mrs P x
Can you help? Spread the word #FindBillytheElf
Sew

it's

beginning

to

look

a

lot

like

Christmas...
This week we learned another new skill as we threaded needles, tied knots and learned how to sew effectively to hold together our fabric, re-usable gift tags (there can be so much waste at Christmas and as always we want to be mindful of the environment). It was tough at times but the Leopards show true resilience as they persevered and we got there in the end. These will soon be available to buy on ParentPay. The children are very proud of them and they are truly handmade with love, Mrs P x
Also, a special thank you to Mrs Dudley who helped out during the afternoon and was chief needle - threading adviser!
MISSING
Billy is missing so there really was only one thing for it and that was to create a missing elf video. We considered the different elements that would be important to tell the public about Billy the elf and together created a plan to structure and edit our ideas upon. Once we had done this and completed our plan using the clues left in class as well as those in the letters we had received, we got busy in small groups to create a video in the hope that one day he will return to our class! WHERE COULD YOU BE BILLY?
Having received a letter from the elusive Billy...
We used all of the skills we have been working so hard on in reading to try to understand what was going on! Here we are predicting, using 'I wonder' statements, relating this text to the others we have read, thought - talking, asking questions and discussing our ideas and annotating as we read.
We soon learned that we might have to try to track down the elf, but first we had to write a letter to Father Christmas himself to thank him for Patch.
Trying to write the best we possibly can, we used our DADWAVERS learning to structure our thank you letter and the best part? The letters are being hand delivered themselves to Father Christmas in Lapland this weekend! Aren't we lucky Leopards? I am so proud of you X
Patch the Elf and his very mysterious friend, Billy...
On Monday we were very surprised to receive a letter from the office to tell us that an elf was somewhere in our classroom! We used our reading skills to read on... Father Christmas had sent him, especially for our class, and he would be looking out for kindness, neat learning and all of us had to try our very best at all times, which we Leopards do! Our elf is called Patch. He is cute and we did find him, hidden in the cupboard behind some tape! Since then all sorts of strange things have happened including the arrival of a second elf, who we now know is called Billy. He was only with us for a moment though, we think leaving just his boots and magic dust behind... Where could he be?
Cracking Crepes...
As part of our journee francaise, we had a great time measuring out ingredients and then making our own crepes. It was fun making them and even better eating them with the variety of fillings we had on offer: chocolate spread, jam, strawberries, cream, lemon and sugar and even cheese for those with a less sweet tooth. Thank you to Mrs Taylor for working tirelessly in the kitchen to ensure each child made their own delicious crepe safely.
La journee francaise...
What an amazing day we had learning all about France! The children can now explain the capital cities of the UK in French, as well as country names and ask where other people live, which all links to our current topic. It was lovely to see the children writing and speaking so confidently in a different language!
Every child then learned how to make crepes and did so in pairs, measuring and mixing the ingredients themselves. The afternoon was fabulous for all as we taste tested baguettes, brioche, croissants, cheeses and much more and discussed and reflected on if we liked them and if we would like to eat them again. It was a great way of understanding similarities and differences between our food and that of another country and everyone had a lovely day. Thank you to our amazing Leopards for embracing all aspects of the day and learning, you make me very proud, Mrs P x
All around the world...
We are really growing in confidence with locating the continents of the world and countries within Europe. We have also been learning about the different capital cities across Europe, starting with our own and writing an amazing persuasive text about why people ought to visit London. Here we are working beautifully with our partners using atlases and iPads to research our world together! :-) Super learning as always Leopards, Mrs P x
Geography in our local environment...
We had a fun afternoon exploring our local village, looking at land use and creating our own sketch map of the area. We then learned how to use and apply directions. We will use this learning later in our topic as we compare our locality with other areas in the UK, Europe and even the world. It was a bit wet and windy but that didn't stop us!
Remembrance Day Artwork...
Please take a look at the beautiful artwork we created on 11th November using our observational skills to draw our own eye then place within it a symbolic image of what Remembrance Day evokes in our minds. We used a variety of pencils to ensure our eye looked as 3D as possible and learned all about how to shade, ensuring it gradually fades from the lightest area to the darkest. The children progressed so well with these skills and I am sure you'll agree that the end results are breathtaking! Well done Leopards, I am very proud of you, Mrs P x
Bonfore Night in Ridgeway...
I could not be more proud of the children's learning over this couple of days. We did a mini project that incorporated many elements of the curriculum:
Geography - We went on a learning walk around Ridgeway to observe and record the human and physical features in our local area, including looking at land use, and we used this learning to feed in to our Art learning as we drew a skyline of our local village.
Art - We experimented with water colour and soon learned that the more we wet the paper, the more it helped the colours to bleed to create a night - scene with bonfire flames. Once dry, we then learned how to use charcoal to shade areas of buildings to help them look 3D and stand out in the foreground before experimenting with paint and straws to add in fireworks.
English - Using our Art work as a stimulus, we then wrote descriptively, setting a scene, about people gathering for a Bonfire in Ridgeway, using new words we hadn't before and really trying to build an image in the reader's mind. Once we'd finished, we peer - assessed our learning, suggesting improvements in language and sentence structure and acting upon feedback.
English (Speaking and listening) - We edited our learning further in to smaller sections that we could rehearse and knew we could record verbally and confidently. We have been working really hard on using intonation and control in our voices when reading aloud to really portray emotion.
Computing - We then used the iPads and Adobe to create the most amazing videos below; the learning your children are capable of is incredible. I am sure you will agree just how amazing these are!
So proud of you Leopards, Mrs P xx
Autumn 2
Come fly with me...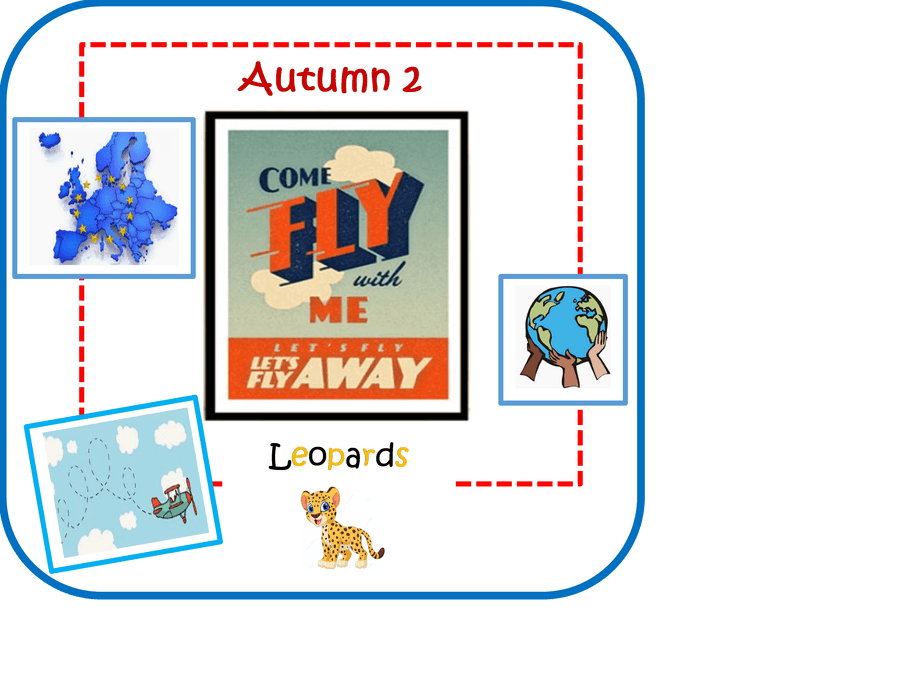 Dear families and our wonderful Leopards, we hope you've had the most lovely break and, if you celebrate Halloween, you had a spook-tastic time!
Can you believe we are heading in to our second half term already? Time really does 'fly' ;-) and wowzers do we have a fun-filled, action-packed half term ahead on the lead up to Christmas!
We will begin by taking a walk around Ridgeway and looking at the human and physical features in our local area using a range of methods including sketch maps and plans. Whilst we are out we will also use our observational skills to sketch the skyline of Ridgeway which we will then use in our Art learning when we learn to mix and blend water-colours and shade with pencils to create a 'Bonfire Night in Ridgeway' picture.
Our topic, 'Come Fly with Me' really does allow us to build on our knowledge and understanding beyond our local area as we look at key physical and human characteristics of European countries, their major cities and their cultures. We will then compare our knowledge of Ridgeway with the wider world. We will also be looking at travel, where people like to go and why and why, most recently, Thomas Cook went in to liquidation, may be we, The Leopards, could save the day?!
This topic then lends itself hugely to our PSHE learning as we discuss topical issues such as Europe and the changes that may be ahead and learn how to see and respect others' points of view, making decisions and explaining choices.
The Leopards have learned so much so far this year already in the Computing that is threaded through our learning and this will continue as we use even more iPad apps, the green-screen and record our learning and thoughts to show our understanding through intonation, tone and volume when speaking.
We are really looking forward to reading, 'My family and other animals' by Gerald Durrell with the children as our class text, which is an autobiographical account of the time the author left dreary England with his family as a child and moved across Europe to the Greek island of Corfu to live there for a few years. In our daily, whole class reading, we will be looking at poetry, newspaper articles, fiction and non-fiction texts and even pictures with just a few words, all of which are linked to our topic learning and will help to develop our skills to become even more 'active' readers. We will also be using a book called, 'The Mediterranean' to support our topic, English, PSHE and Art learning. We will use charcoal to create different types and styles of shading, learning how to use it to make objects look 3D and to express emotion.
We will continue to play music each week as to ensure the children are listening to and understand a wide range of music drawn from different traditions, composers and musicians and this half term, music will be chosen from a different European country per week (please look above to find out what!) We will then accompany traditional music to perform in solo and ensemble contexts.
There is still more to come as we also learn about Remembrance Sunday, and, of course, get ready for Christmas!
Thank you so much for all of your continued support. We are loving every moment of spending time with and teaching your children, they are rays of sunshine!
Looking forward to seeing you all soon,
Mrs Potts & Miss Trotter X
S

e

p

t

e

m

b

e

r 2

0

1

9
To all of our wonderful children that we are lucky enough to teach this year and your families,
Welcome back to a new academic school year! We hope you had the most wonderful summer playing outside and making special memories, haven't we been lucky with the sunshine?
We hope that you sleep well tonight and that you're rested and ready to go for an action-packed, fun-filled year ahead, it promises to be a busy one, just the way we like it! And if you're feeling a little anxious about coming back to school having spent all summer at home, then please know we will look after you and you will feel safe and looked after by us and with all of your friends at Ridgeway.
We will regularly update this page with what we have been up to and additional information we have to share. Please always feel free to ask any questions you may have, we really do look forward to getting to know you all well and feel incredibly lucky to be working with your amazing children on a daily basis; we have the best job in the world!
Mrs Potts & Miss Trotter X
Water Bottles
Please ensure your child has a water bottle in school at all times so we can keep everyone hydrated.
Many thanks, Mrs Potts & Miss Trotter X
Autumn 1
The Roman Empire Strikes Back!
Our learning journey this year begins by considering what it was like to be a Roman... Who were they and where did they come from? They invaded Britain but why? And did they speak the same language as we do now? The Romans lived in Britain for around 400 years, so when they left did they leave anything useful for us, did we learn anything from them? We may want to know what they ate ( I heard they enjoyed eating dormice and flamingos, can you imagine?!) and what did they wear?
I think it may be time to dig out our body armour, spears, daggers and swords as we delve deep in to this fascinating time in history, are you ready for action, Leopards?! We are and we are very excited...
Hadrian's

Wall

research...
Here we are using atlases to gather contextual knowledge of the UK, then England and Scotland and finally Hadrian's wall. Our further research taught us how it was built and why it often followed cliff edges (!!). We also learned about the trenches built either side and why the wall was built in the first place. The children were surprised about its size and how long it took to build, also the reasons why it was built by The Romans. If you get a minute, as your child if they can recall any facts about it!
Roman

- mosaic

inspired

Art!
We looked very closely at Roman Mosaic Art and considered how we could replicate that style and deciding upon stamping. Then, we designed our own Roman-inspired design based on our research and the final outcomes were amazing, I am sure you'll agree! :-)
The

Sound

of

(Roman)

Music!
I could not be MORE proud of the children and their learning in our Music lessons. This term we have been working on playing and performing in both solo and ensemble contexts and using a variety of musical instruments with accuracy and expression.
We learned the tune and lyrics to a song about The Romans then using a variety of instruments from hand bells to drums to the piano, put together this accompaniment. The children chose their instruments and firstly worked alone then in large groups to create this masterpiece! Teamwork, excellent learning and lots of enthusiasm, just as we like it!
And this also blew my socks off! This is a picture of the wooden horse that features in the story, 'Escape from Troy'. We have been learning to re-tell the story as part of our English learning and to really bring it to life, the children created this accompaniment.
It begins by setting the scene (during the evening) and the twinkly instruments represent the night stars. Then, the dramatic piano notes signify a change in mood as the soldiers hidden in the wooden horse begin to open a door to escape and eventually take over the city, burning it to the ground! If you listen really carefully, you may even hear a few footsteps that pick up momentum and volume as hundreds of soldiers run towards Troy and destroy it.
Once again, we used a variety of instruments and the children even used the knowledge and skills they have from music lessons outside of school to create this collaborative and inspiring piece of learning. Well done Leopards, I could not be more proud of you!
More

amazing

outdoor

PE...!
We continue to build on our skills week by week and here we are putting all of the skills we've learned in to a team game, it was great fun and it is excellent to see all the progress that the children have made! :-)
Magic

Maths...
Once again, I have been blown away by the whole class's learning in maths. This week we started with the balancing of equations and so much progress was made by the children that by the end they could explain and record their thinking and problem solving as though they were teachers themselves!
Thank you Leopards for being such amazing superstars with such a passion for learning, you are all amazing! Here are a few snippets of our learning... :-)
Reading

revolution!
Woweee! Have a listen to just some of the learning conversations the children are having during one of our daily reading sessions. Over the last few weeks we really have become much more active readers - meaning we are able to read and unpick a text way beyond the words. Such discussions are called 'Thought - Talking', where we read it through and explain our ideas as we do. I will also attach a copy of the text we were reading, it is a diary entry written by a Roman Soldier. This learning helped to scaffold our next piece of writing, in which we became the Roman Soldier and sent a letter home ourselves! Go Leopards, I am so proud of you!
Time

to

bring

our

poetry

to

life

...!
After learning all about Ancient Rome and using our senses to describe what we could see/ hear/ smell/ touch and taste if we were transported back there, we worked together beautifully in small teams to edit, improve and choose our favourite lines from our own poems. Then, we rehearsed speaking our poems loudly and with expression, listening to each other and giving feedback, before recording our collective poems on an app called Spark - we really managed to bring our poetry to life! We are so proud of you, leopards!
Fitness

First!
We had a great time really putting our fitness to the test outside, Mrs Potts was really impressed with all that we achieved and we will repeat what we did to see our fitness progress over the year :-)
We

had

a

great

time

at

the

allotment...
Take a look at all of the vegetables we planted a while ago and that we managed to harvest! What a super achievement!
Mentimeter

- Madness!
We've been busy using the iPads lots in our learning to ensure we are using Computing across the curriculum as much as possible and last week we used 'Mentimeter' to create a shared Word Cloud. First, we learned lots of facts about Ancient Rome (which feeds in to our English learning) and then used the iPads and Mentimeter in groups to share our ideas. We had great fun adding our ideas on our iPads and watching them magically appear on the class interactive whiteboard. By the end of the session we'd learned all about Rome, gathered ideas for our poem, learned how to use a new website and created a team Word Cloud. Well done Leopards, you are amazing!
Roman

roads

were

long

and

straight

you

would

not

need

much

steering,

they

really

were

a

triumph

of

ancient

engineering...
We are working hard to make sure that we are becoming 'active' readers, which means developing the skills to fully engage with and understand every text we read as we read the words on the page. The Leopards are doing so well to understand and use these skills every day. We began with an extract from a non-fiction book about The Romans, then a poem entitled, 'What the Romans did for us' and this week we're working on an extract from a book about Roman myths and legends. The Leopards are working really hard to think both independently and collaboratively to discuss their ideas about the texts and really solidify their understanding. If you get a minute, you may wish to ask your child what 'annotate' means or 'thought - talking'. See what they say! :-) Keep up the excellent reading, Leopards, I am really proud of you!
Kahoot-

Kids!
Kahoot is an amazing website that allows us (the teachers) to make quizzes online that embed and stretch the learning of the children. Recently, as part of our reading lesson, the Leopards took part in a multiple choice quiz all about the text we had read. It's competitive (which the children love!), as you can see how many points each team get after each question, and the children access it via their iPads and the questions are on the interactive whiteboard!. It is such a fun way to solidify our learning; here are some pictures of us having lots of fun whilst learning, using the iPads, using our reading skills and listening/ talking to our classmates all at the same time! Go Leopards!
Outdoor

P.E

!
Sunny weather, fresh air, team work, working on our football skills, working together as a team, listening to each other, smiling together, what else could we wish for? The Leopards have been working so hard during P.E. to improve their ball skills and I am so proud of them!
"Siri,

find

me

a

synonym

please..."
Who knew that you could use Siri on your iPad to find exciting synonyms for words? We had great fun using Siri to up-level our writing :-) May be you could try this at home too!
Chuck

Close

inspired

Art...
The Leopards looked at the artwork of the famous American artist Chuck Close and then worked really hard as a team to create a masterpiece of a Roman Soldier inspired by him! Take a look at us choosing our colours wisely to show the light and dark shades, shading in small squares whilst considering the end piece of Art and then at our final, big Art piece which is currently outside of our classroom. I am so proud of what the Leopards achieved!