Our last topic of the year is 'All Aboard'. In this topic we look at how different types of transport and animals travel, journeys to school, to space and going on holiday. Again it is a really exciting topic with space and boat role play, lots of dressing up and maybe even a day trip to the canal. All Aboard !
Chesterfield Canal Trip -
July 2019
We had a great day out to the canal. the weather stayed fine and we walked and walked and walked. All children had trips on the canal and were able to experience going up and down in a lock.
The children were fantastic. A great and happy day for all.
July - tin foil boats
I gave the children a challenge to make a boat from a piece of tinfoil and see how many Unifix cubes it would hold without sinking.
Look at the pictures to see how they did....some were fantastic...some sunk! But everyone had a go!
It's a bug's life - Summer 1
Our topic for the first part of the Summer term is 'It's a bug's life'. It is about minibeasts! The children get to go on bug hunts, find out what snails like to eat, learn where minibeasts like to live and learn lots of great songs about bugs. It is a lovely topic which gets the children very interested in insects and life in their garden.
Helpful Heroes - Spring 2
Our new topic for Spring 2 is Helpful Heroes.
It will learning about people who help us in different areas of life - from school, home, in an emergency, those who help to keep us healthy and those who help animals.
It is a lovely topic to learn about with lots of role play, writing and art activities.
Science Week in Reception
The children have had a fun science week looking at what is in rabbit food (linked to our topic People who help animals), having a visit by a real scientist and seeing how sycamore seeds fly - like helicopters - and making a paper helicopter. The children have been very enthusiastic and some now say they want to be a scientist and investigate things.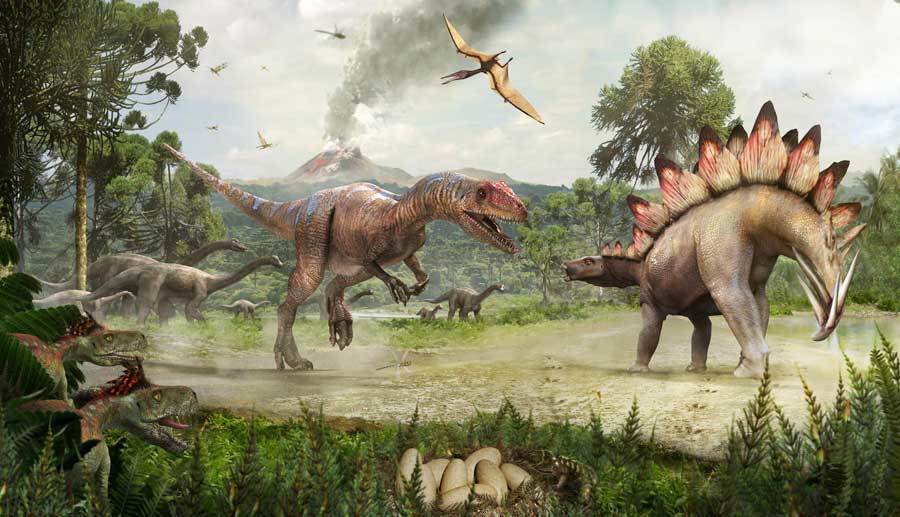 is the new topic for

Spring Term 1
During this topic we learn about DINOSAURS!
We will be painting, singing, drawing and talking about different dinosaurs.
Through the topic of dinosaurs we will be learning about opposites and learning to use lots of opposite words.
We will be writing more and increasing our maths skills to learn about doubling, halving and odd and even numbers.
It will be another busy and exciting term in Starfish class!
PE training session Jan 2019
Reception were very lucky to be given a PE session. They worked extremely hard and really enjoyed the outdoor session to teach ball control skills.
Sing a Rainbow
(topic Autumn 2)
was a lovely topic and the children certainly enjoyed the variety of activities. I think making different colours with paint was probably the most liked but they also enjoyed making penguins and are still doing so when they can choose. It is great to see them experimenting with the skills they are being taught.
Take a look at the lovely chalk elephants they have made - each one is different just like the elephants on Elmer Day.
Early Years and Key Stage 1 -
Remembrance Service at the War Memorial
Following our Harvest Festival we talked about the vegetables a farmer might grow. Working with Mrs Geddes the children cut the vegetables and made soup. The photographs show the children, who wanted to try the soup, enjoying it and even having seconds!

Great Starfish soup makers!
A tractor came to school
We have been talking about autumn and harvest in class. I arranged for Mr White to bring his tractor into school for the children to see. They had a wonderful time and were delighted to be able to sit in it.
Thank you Mr and Mrs White and Navarda for making it possible.
The 1st few days
I am so very pleased that the children have settled so well into school.

Here are a few photographs to show you what they have been doing.
Starfish, Starfish
Tra la la la la
We are Starfish, Starfish
Tra la la la la la
Starfish at Ridgeway School
Tra la la la la la
We are kind, we are friends and we learn everyday!
Routines in Reception
The class teacher is Mrs Naylor - who teaches on Monday, Wednesday and Thursday.
Mrs Gelipter - who teaches on Tuesday and Friday.
The Teaching Assistants are Miss Riley (Monday and Tuesday)
and Mrs Geddes (Wednesday, Thursday and Friday)
PE is on Tuesdays and Wednesdays. please make sure your child their PE kit in a draw string bag as rucksacks are too bulky for the space we have on pegs. Our PE kit is a white T-shirt, black shorts, a black sweatshirt and black joggers, (a spare pair of socks is a good idea if your child wears tights to school). Please make sure all kit is clearly named - even pumps and shoes. Please send to school at the beginning of each half term and it will come home at the end of each half term.
Water bottles will be sent home at the end of the school day to be washed and refilled ready for the next day, hydration is really important and aids concentration and learning.
We are looking forward to a super year ahead. If you have any questions please don't hesitate to ask.
Reading bags should be returned every
Monday and Thursday.
Stomp Rocket Launching Fun
We had a great time launching the stomp rockets on the field. Just look at the photo's to see how high the children were jumping to make the rocket fly.
Snails

May 2019
We used clay to make our own snails. We had practiced drawing spirals and rolled the clay into long sausage shapes before making it into a spiral for the snail shell. We added a body - called the foot and tentacles.
Have a look at our wonderful snails!
Tag Rugby Taster Session April 2019
The children had a lovely half hour with Josh and Callum from Rugger Eds. They tried several different games which involved rugby skills. All children had a great time and enjoyed it enormously.
Thank you Rugger Eds!
LOOKING FOR SIGNS OF SPRING
Spring is in the air and the children went with Mrs Geddes to the allotment to look for signs of Spring.
SYMMETRY
We have been learning about symmetry and have made a symmetrical pattern on a peg board.
A Nurse came to visit ...
Thank you to Mrs Casey for coming into class to talk about her role as a nurse. The children got to ask lots of questions and were really excited to talk about their past illnesses.
Pancakes
We made pancakes with Mrs Gelipter. It was great fun especially when we got to eat them. We had healthy choice options to add to our pancakes.
Bikeability - Jan 2019
Reception were very lucky to have Bikeability training from the Derbyshire County Council Road Safety Team. They were taught how to mount and dismount and how to ride a balance bike. The children will have a second session next week to further their skills and confidence on the bikes.
We had a super walk despite the wet weather. The children were excited about looking for autumn things.
Look at the photographs to see the excitement.