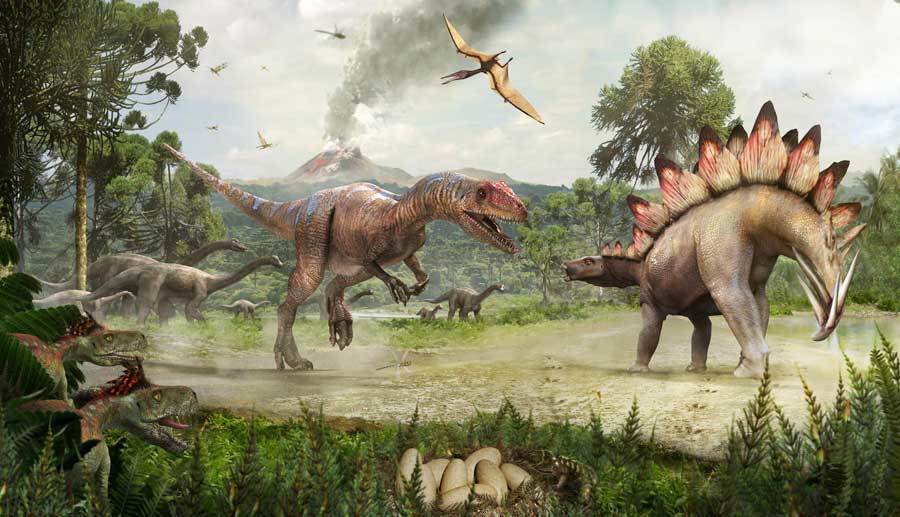 is the new topic for

Spring Term 1
During this topic we learn about DINOSAURS!
We will be painting, singing, drawing and talking about different dinosaurs.
Through the topic of dinosaurs we will be learning about opposites and learning to use lots of opposite words.
We will be writing more and increasing our maths skills to learn about doubling, halving and odd and even numbers.
It will be another busy and exciting term in Starfish class!
PE training session Jan 2019
Reception were very lucky to be given a PE session. They worked extremely hard and really enjoyed the outdoor session to teach ball control skills.
Sing a Rainbow
(topic Autumn 2)
was a lovely topic and the children certainly enjoyed the variety of activities. I think making different colours with paint was probably the most liked but they also enjoyed making penguins and are still doing so when they can choose. It is great to see them experimenting with the skills they are being taught.
Take a look at the lovely chalk elephants they have made - each one is different just like the elephants on Elmer Day.
Early Years and Key Stage 1 -
Remembrance Service at the War Memorial
Following our Harvest Festival we talked about the vegetables a farmer might grow. Working with Mrs Geddes the children cut the vegetables and made soup. The photographs show the children, who wanted to try the soup, enjoying it and even having seconds!

Great Starfish soup makers!
A tractor came to school
We have been talking about autumn and harvest in class. I arranged for Mr White to bring his tractor into school for the children to see. They had a wonderful time and were delighted to be able to sit in it.
Thank you Mr and Mrs White and Navarda for making it possible.
The 1st few days
I am so very pleased that the children have settled so well into school.

Here are a few photographs to show you what they have been doing.
Starfish, Starfish
Tra la la la la
We are Starfish, Starfish
Tra la la la la la
Starfish at Ridgeway School
Tra la la la la la
We are kind, we are friends and we learn everyday!
Routines in Reception
The class teacher is Mrs Naylor - who teaches on Monday, Wednesday and Thursday.
Mrs Gelipter - who teaches on Tuesday and Friday.
The Teaching Assistants are Miss Riley (Monday and Tuesday)
and Mrs Geddes (Wednesday, Thursday and Friday)
PE is on Tuesdays and Wednesdays. please make sure your child their PE kit in a draw string bag as rucksacks are too bulky for the space we have on pegs. Our PE kit is a white T-shirt, black shorts, a black sweatshirt and black joggers, (a spare pair of socks is a good idea if your child wears tights to school). Please make sure all kit is clearly named - even pumps and shoes. Please send to school at the beginning of each half term and it will come home at the end of each half term.
Water bottles will be sent home at the end of the school day to be washed and refilled ready for the next day, hydration is really important and aids concentration and learning.
We are looking forward to a super year ahead. If you have any questions please don't hesitate to ask.
Reading bags should be returned every
Monday and Thursday.
Bikeability - Jan 2019
Reception were very lucky to have Bikeability training from the Derbyshire County Council Road Safety Team. They were taught how to mount and dismount and how to ride a balance bike. The children will have a second session next week to further their skills and confidence on the bikes.
We had a super walk despite the wet weather. The children were excited about looking for autumn things.
Look at the photographs to see the excitement.